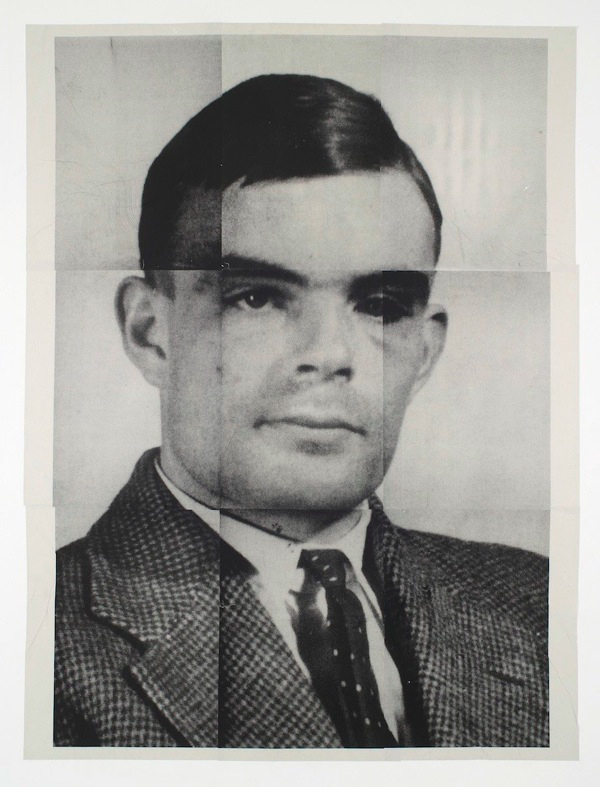 Chevalier d'Eon
Oil on linen
45 x 60 cm
Known as the transvestite spy, he was originally named Charles-Geneviève- Louis- Auguste-André-Timothée Eon de Beaumont. In 1756, he was inducted into Louis XV's espionage network, the Secret du Roi. Seeking a rapprochement between Russia and France, Louis sent d'Eon, disguised as a Mademoiselle Lia de Beaumont, to infiltrate the Muscovite court of Empress Elizabeth I. Although this sounds far fetched, the European upper classes were increasingly fascinated with the idea of men and women assuming opposite roles for society events, and d'Eon, who kept a scrapbook on hermaphrodites, was more interested in the concept than most. He became a well known socialite and such was the feverish debate about d'Eon's gender in the 1780s that a betting pool ran at the London Stock Exchange on whether he was a man or a woman, with the latest odds posted in all the best coffee houses. Only after d'Eon died in a shabby London bedsit, aged 81, did a post-mortem reveal all. Many commentators considered d'Eon to be one of the pioneers of the feminist movement, articulating views about the female perspective from a unique position. He built up a library of 6000 volumes and 500 rare manuscripts including a collection of radical feminist books which explored the 18th-century querelle des femmes (the women question).
An Unexplained Mystery, Not Broadcast on CBS's "Unexplained Mysteries"
Oil on canvas
45 x 60 cm
Roberto Calvi was known as 'God's Banker' due to the fact that the Ambrosiano Bank, of which he was the chairman, was largely owned by the Institute of Religious Works – the bank of the Vatican state.
His death in London on 18th June 1982 is subject to much political intrigue and speculation. Calvi was found hanged under Blackfriars Bridge. His death was subject to two coroners inquests, neither of which could conclude he was murdered. On the insistence of his family however, his body was exhumed and in 2002 an independent forensic enquiry concluded he had been murdered. This led to speculation that Calvi's death involved shady dealings involving the Vatican Bank, the Italian mafia and a secretive Masonic lodge called Propaganda Due or P2. When Calvi's body was found his clothes were loaded with masonry bricks, which many read as a symbolic Masonic warning. The members of the P2 lodge also referred to themselves as 'frati neri' or 'black friars'.
BASF Magic Gold
Pigment
Magic Gold®, now discontinued, was part of the Variochrome® range of pigments, which represented the cutting edge of BASF's pigmentation technology only a few years ago. It was used primarily in the automotive industry. When sprayed or powder coated, the pigment appears as two different colours: gold or green.
The Bitch Messed With His Head
Oil on linen
45 x 60 cm
Mirren Barford was engaged to Jock Lewes, co founder of the SAS. Lewes was killed in action before they could marry. While a confident soldier in the Special Forces, Lewes' personal life was dogged by insecurity and jealousy. Upset when Mirren didn't respond immediately to a letter, he wrote to his brother in 1939,
'Have you any news of Mirren? As I have had no reply to my delicately worded epistle, I can only presume that you foxed me with the wrong address, and that you are yourself already engaged to be married to her. I can find no other explanation for her misguided preference for your highly inferior person and her neglect of my well-bred advances.'
Gothic Version of the Ring Laser Gyroscope Used in Final Flight of the Space Shuttle Columbia STS-107
Mirror, laser, smoke machine, plinth
The Ring Laser Gyroscope is a device that continuously monitors the position, velocity, and acceleration of a vehicle, usually a submarine, missile, or aeroplane, and thus provides navigational data or control without the need for communicating with a base station. This is characteristic of inertial guidance systems. Inertial guidance systems are self-referential and determine location and orientation not from sightings of the stars or landmarks, nor from signals from the ground, but solely from instruments carried aboard a moving craft.
Loyalist Male (William Law) Glasgow, 9th July 2010
Oil on linen
175 x 85 cm
William plays the fife, a flute-like instrument traditionally used in military bands. By some reports a band of fifes and drums can be heard up to three miles away over artillery fire. These qualities made it useful for signaling on the battlefield. The fife was one of the most important musical instruments in America's colonial period. Its influence is still heard in Appalachian folk music and even influenced the music of African American slaves, becoming fife and drum blues. William is a member of the Netherton Road Flute Band in North Lanarkshire. This marching band is affiliated to the Livingston Memorial Loyal Orange Lodge 147.
Loyalist Female (Katie Black) Glasgow, 3rd July 2010
Oil on linen
175 x 85 cm
In Glasgow Loyalists are loyal to a United Kingdom and the British Crown. Many are members of orange lodges, who organise social and political events. One such event is the Annual Orange Parade in Glasgow, which took place on 3rd July this year. It featured about 8,000 marchers and 90 bands from 182 lodges across the city, many from Northern Ireland. Katie is a 'follower' or supporter of the orange walk; many of the marchers wear flags on the march.
Columbia, The Woman
Screenprint on newsprint, flyposted
225 x 300cm

Here she is depicted film-noir style, as a femme fatale.
 
Analogue Signal Entitled 'The 10 O'Clock News', Broadcast by the BBC, 5th May 1980
Ferric Oxide and Urethane on glass
122 x 122 cm
Thirty years ago, on 5th May 1980, six terrorists stormed the Iranian Embassy in London, and took 26 people hostage. For the next six days the world watched in trepidation as police tried to bring the tense standoff to a peaceful conclusion. The siege ended as suddenly as it began, with an elite SAS team storming the building and killing five of the terrorists. Millions watched live on television as black-clad troops abseiled onto the embassy's balcony before hurling grenades through the windows. The unforgettable images thrust the secretive Special Air Service (SAS) into the public eye and earned them a hallowed status that persists to this day.
Chisenhale edition
Silkscreen on Somerset newsprint.
60 x 45 cm
Who's Shagging Who at Lockheed Martin?
Oil on linen
45 x 60 cm
Dyptich
Lockheed Martin is a global security company covering research, design, development, manufacture, integration and sustainment of advanced technology systems, products and services. They specialise in aerospace and defense and were instrumental in the development of the space shuttle and POLARIS missiles. The Director, Mr Stevens, was dating one of the staff and her best friend behind her back. The affair was the scandal of the department at the time. Here are the women in question: one of them is a traitor.
Who's Shagging Who at Lockheed Martin?
Oil on linen
45 X 60 cm
Dyptich
Why Your Life Sucks
Oil on linen
45 x 60 cm
For all his genius and his extraordinary contribution to the war effort, Alan Turing was shamefully ignored by the British establishment. He killed himself after being convicted of being a homosexual and 'gross indecency with a male' in March 1952. Instead of prison, he was sentenced to chemical castration, which involved receiving injections of the female hormone oestrogen, designed to suppress his homosexuality. In the words of one of his biographers, it also set the diffident genius on a 'slow, sad descent into grief and madness. As a consequence, on 7th June 1954, just two weeks before his 42nd birthday, the softly-spoken genius killed himself by taking a bite out of an apple that he had dipped in cyanide. Some believe his bizarre death is commemorated to this day in the logo used by Apple on its electronic goods – so significant was his contribution to the genesis of the computer.
Lech Walesa Overseeing a United States of Europe
Oil on Linen
61 x 46 cm
Lech Walesa was an influential organiser for the Polish Solidarity trade union movement in the 1970s. He received the Nobel Peace Prize in 1983, and in 1989 he became the first democratically elected president of Poland. He said, 'Truth is very important when we speak of the course of history' and believed that the fall of the Iron Curtain was due to the Vatican and Solidarity. Pope John Paul's visit to Poland in June 1979 was very influential because it was his first visit to a communist country, 'unifying Europe in freedom'.
Columbia Space Shuttle
Screenprint on newsprint, flyposted
225 x 300 cm
Columbia was the first of NASA's Orbiter fleet. It was manufactured by various companies including Boeing, Lockheed Martin, Thiokol, Rockwell and Alliant Techsystems. It was delivered to the Kennedy Space Center in March 1979. Columbia initiated the Space Shuttle Flight Program when it lifted off on 12th April 1981. It proved the operational concept of a winged, reusable spaceship by successfully completing the Orbital Flight Test Program. The space craft was destroyed over east Texas on its landing descent to Kennedy Space Center on 1st February 2003 at 8:59 a.m. EST at the conclusion of a microgravity research mission (STS-107). Columbia was named after a small sailing vessel that operated out of Boston in 1792 and explored the mouth of the Columbia River. One of the first ships of the U.S. Navy to circumnavigate the globe was named Columbia. The command module for the Apollo 11 lunar mission was also named Columbia.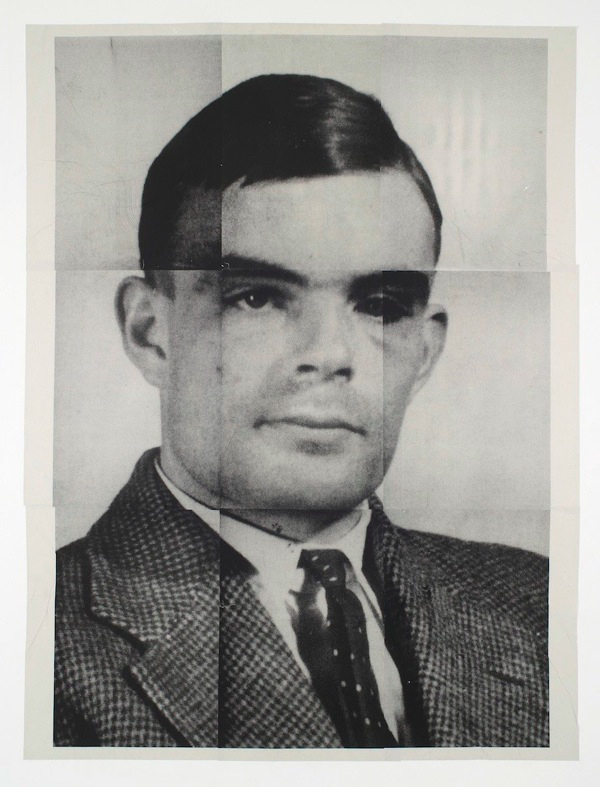 Using Polish Technology, Alan Turing Devised a More Sophisticated Machine to Crack ENIGMA
Silkscreen on newsprint, flyposted
220 x 300 cm
Alan Turing is regarded as the father of modern computer science and worked as a code breaker at Bletchley Park, home of the United Kingdom's main decryption centre during WW2. At that time the Germans were using a cipher machine called ENIGMA. They were convinced that ENIGMA could not be deciphered, indeed so confident were they that they used the code for top secret communications. Any deciphered information was so highly regarded by the British that they code-named it ULTRA. Turing was the person that eventually cracked the ENIGMA code.