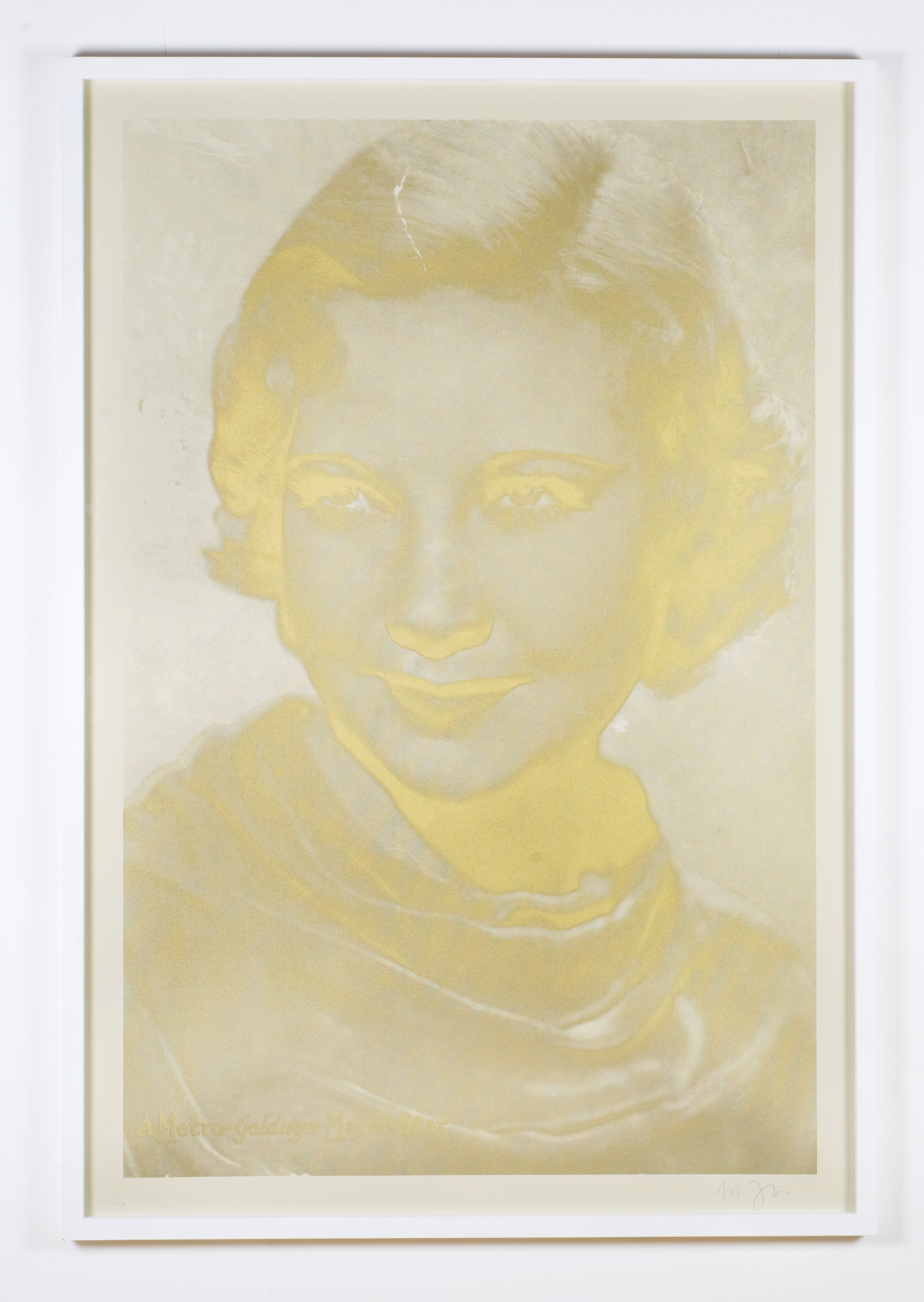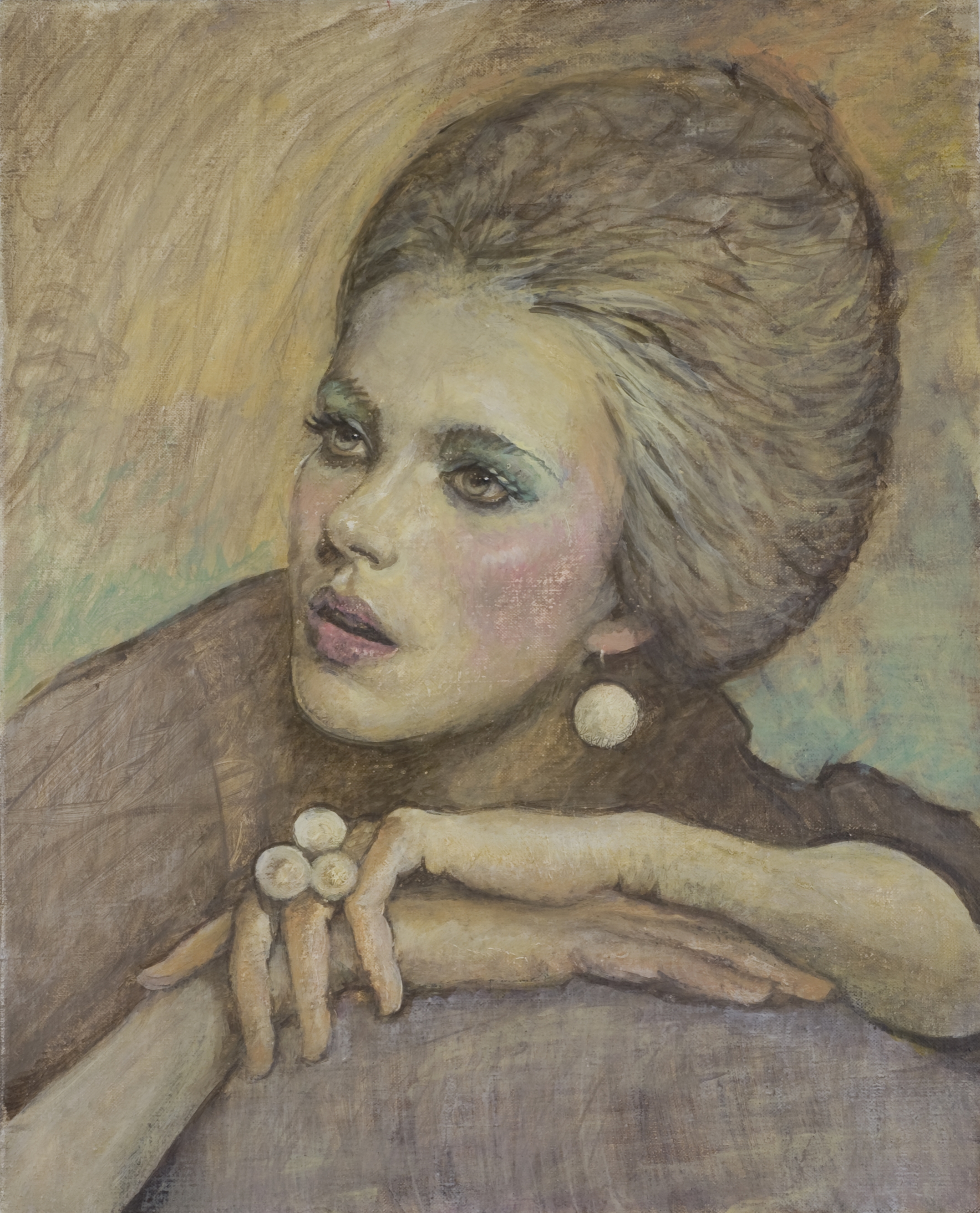 Installation, Greene Naftali
The Producer
Oil on linen
60 x 72 cm
Samuel Gelbfisz was born in 1879 in Warsaw, Congress Poland, Russian Empire. He immigrated to the US in 1898, changing his name to Samuel Goldfish, and eventually started working as a theatre producer. In 1916 Goldfish partnered with Broadway producers Edgar and Archibald Selwyn, using a combination of both names to call their movie-making enterprise Goldwyn Pictures. Samuel Goldfish then had his name legally changed to Samuel Goldwyn, which he used for the rest of his life. Goldwyn made numerous films and reigned as the most successful independent producer in the US for years. He received his first Oscar nomination for Best Picture for Arrowsmith (1931), and received subsequent nominations for Dodsworth (1936), Dead End (1937), Wuthering Heights (1939), The Lit- tle Foxes (1941) and The Best Years of Our Lives (1948).
Kim Dotcom Under House Arrest, Auckland November 25th 2013 (Version one)
Oil on linen
210 x 100 cm
Kim Dotcom, (born Kim Schmitz; 21 January 1974) is a New Zealand based Internet entrepreneur. His website, Megaupload.com was one of the most popular online cloud computing and file sharing services. In 2012 he was arrested by the New Zealand authorities in response to charges brought by the Motion Pictures Assiociation of America (MPAA) in the largest copyright and piracy case ever brought to court.
Studios represented by the MPAA include: 20th Century Fox, Paramount, Universal, Columbia, Warner Brothers and Disney. He faces charges of copyright infringement to the tune of $175 million, and he allegedly cost copyright holders $500 million in lost revenue.
He spent almost two months on remand at Mount Eden prison, Auckland, before being released on bail. He is currently fighting extradition to the United States and remains under house arrest at his home near Auckland, New Zealand.
Kim Dotcom Under House Arrest, Auckland November 25th 2013 (Version Two)
Peter Gutmann, Auckland 2013
Oil on linen
105 x 200 cm
Peter Gutmann is a computer scientist at the Department of Computer Science at the Universityof Auckland, New Zealand. He is the developer oft he cryptlib open source software security library. He also contributed to the cryptographic software Pretty Good Privacy – one of the world's first widely available "strong" or military- grade encryption programs (PGP 2.0). He is also known for his analysis of data deletion on electronic media, magnetic and otherwise, and devised the "Gutmann method" for erasing data froma hard drive (a 35-pass erasure method which comes standard on all Windows and Macintosh computers). He has also written on his career as an "arms courier" for New Zealand, detailing the difficulty faced in complying with customs control regulations with respect to cryptographic products, which are classed as "munitions"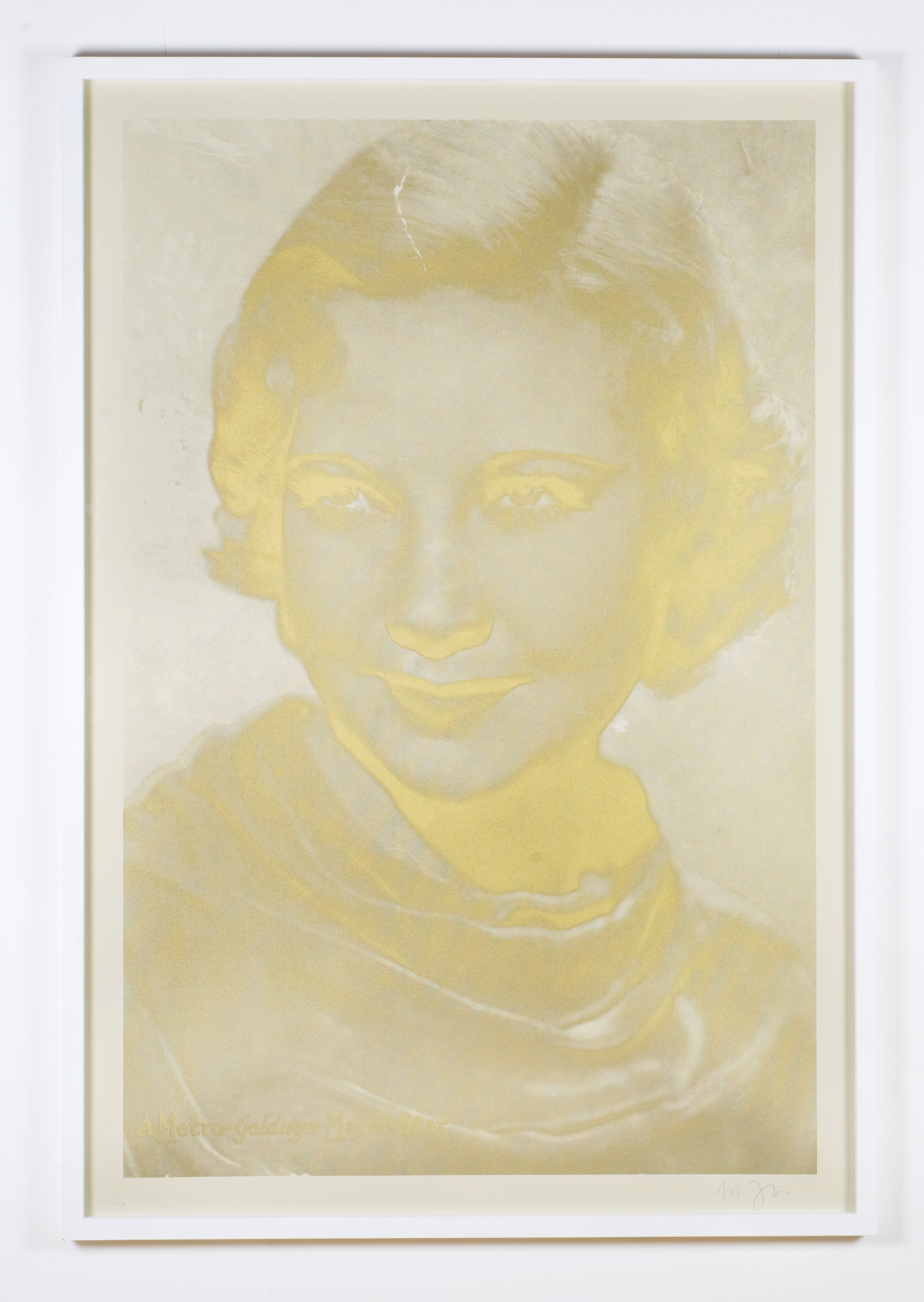 Cypher
Silkscreen with black and gold ink onto Somerset Newsprint
74 x 108 cm
Edition of 30
Cypher (MGM, circa. 1936)
Oil on linen
45 x 60 cm
Jean Harlow was an American film actress and sex symbol of the 1930s that signed with Metro-Goldwyn- Mayer in 1932. Her co-stars included Cary Grant, Spencer Tracy and in six films, Clark Gable. Harlow's popularity rivaled and soon surpassed fellow MGM actresses such as Joan Crawford. She had become one of the biggest movie stars in the world by the late 1930s, often nicknamed the "Blonde Bombshell" and the "Platinum Blonde," and popular for her "Laughing Vamp" movie persona. She died of renal failure during the filming of Saratoga in 1937 at the age of 26.The film was completed using doubles and released a little over a month after Harlow's death. The American Film Institute ranked her as the 22nd greatest female movie star.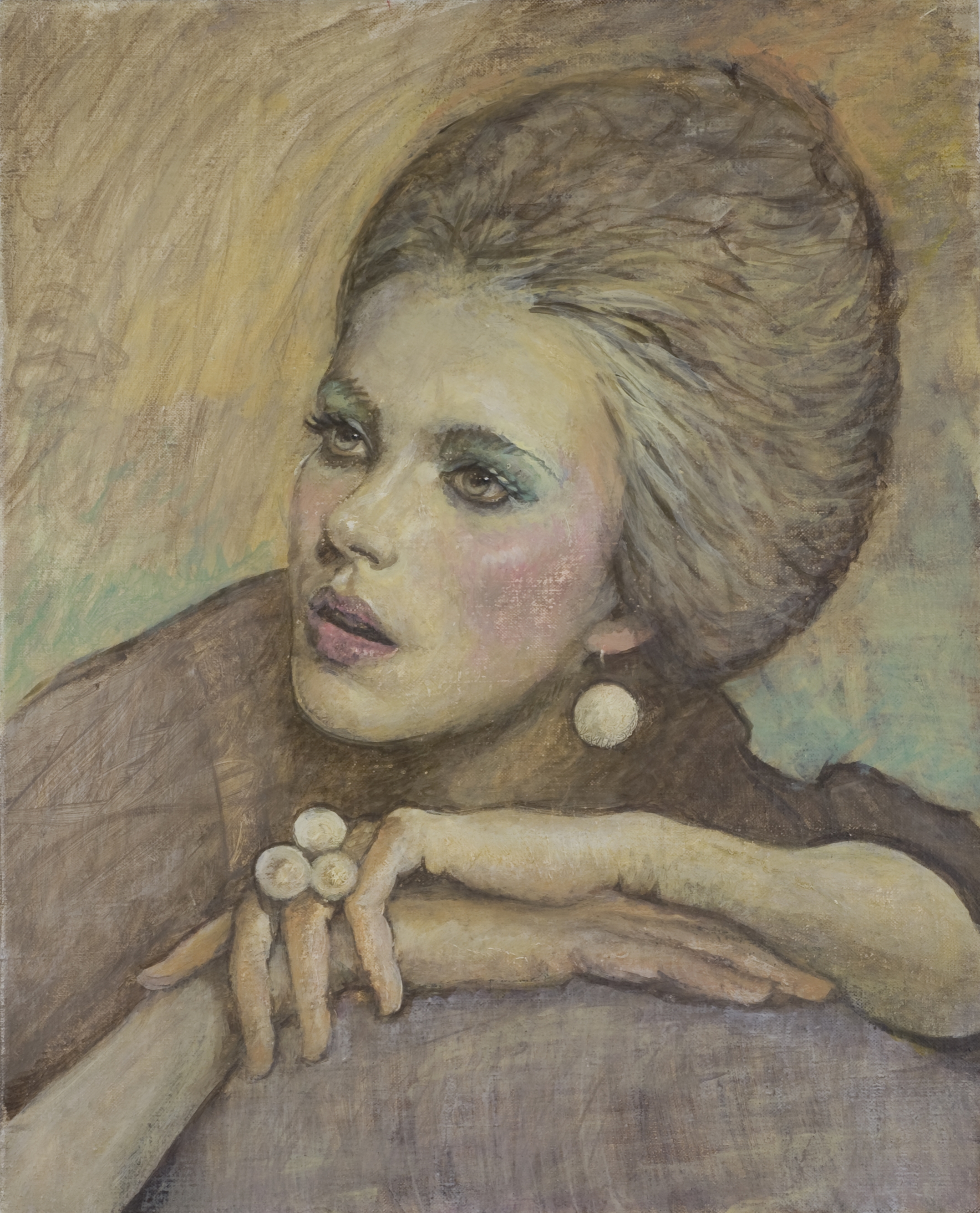 In-Flight Advertisement
Oil on linen
45 x 60 cm
A Jewellery advertisement in a British Airways in-flight magazine
Formal Values: Sucking Corporate Cock Since 1968
Ferric Oxide, Urethane, pedestal. 30 x 30 x 30 cmFerric Oxide, Urethane, pedestal.
30 x 30 x 30 cm
Derek McGill, Governor, HMP Barlinnie, Glasgow, 2013
Oil on linen
90 x 180 cm
Derek McGill is the governor of Her Majesty's Prison Barlinnie, situated on the outskirts of Glasgow.The all- male prison, built in the late 19th century, houses up to 868 prisoners, most serving sentences of less than four years. It is Scotland's largest, most complex penal establishment and holds all categories of prisoners.
Its main purpose is to hold remand and short- term prisoners sent by the West of Scotland courts. Barlinnie also has a facility that holds protection prisoners and sex offenders separate from the main prison population. The segregation unit is available for local prisoners and national prisoners from other establishments for a variety of management reasons.
Meaning Incorporated
Ultramarine pigment (Afghan Lapis Lazuli), pine turpentine, linseed oil, pedestal
30 x 30 x 30 cm
Lapis Lazuli was first used in 6th century Afghanistan, and found extensive use in 14th and 15th century illuminated manuscripts and Italian panel paintings. It was the most expensive pigment, more expensivethan gold during the Renaissance. Its material rarity endowed it with great symbolic value, and thus was often reserved - as a sign of respect - for the cloaks of Christ and the Virgin.
It was imported from Afghanistan to Europe by way of Venice, hence the name - Ultramarine - which means "over the sea".
installation view, Glasgow Print Studio
Seduction
Silkscreen on newsprint, flyposted
300 x 225 cm

Polaris missile by Lockheed Martin 1971
Trademark
Silkscreen on newsprint, fly-posted
700 x 225 cm
This lion was the first lion used for the newly formed Goldwyn Pictures studio. He was born at the Dublin Zoo in 1919 and was in the original logo, designed by Howard Dietz and used by the Goldwyn Pictures Corporation studio from 1917 to 1924.
Installation view, Glasgow Print Studio
Painter (Bert Lahr, 1934)
Silkscreen on newsprint, flyposted
300 x 225 cm
Bert Lahr, born Irving Lahrheim, August 13, 1895, was an American actor and comedian. Lahr is probably remembered best for his role as the Cowardly Lion in the film The Wizard of Oz (MGM 1939), but was also known for his work in burlesque, vaudeville, and on Broadway.
Beauty (The Walt Disney Company 1937)
Maryllin Hewson (Official Corporate Version)
Oil on linen
45 x 60 cm
Marillyn A. Hewson is Chairman, President and Chief Executive Officer of Lockheed Martin Corporation. In her 30 years with Lockheed Martin, Hewson has held several operational leadership positions including President of Lockheed Martin Systems Integration; Executive Vice President of Global Sustainment for Lockheed Martin Aeronautics and President of Lockheed Martin Logistics Services.She has also served in key corporate executive roles, including Senior Vice President of Corporate Shared Services,Vice President of Global Supply Chain Management, and Vice President of Corporate Internal Audit.
She serves as Steering Committee Chair for the Defense Industry Initiative, an association of U.S. defense companies committed to conducting business affairs at the highest ethical level. She is also a member of the Board of Governors of the Aerospace Industries Association, and is an Associate Fellow of the American Institute of Aeronautics and Astronautics.
Marillyn Hewson (Gothic Version)
Cary Grant on LSD
Oil on linen
45 x 45cm
Cary Grant was the first mainstream celebrity to espouse the virtues of psychedelic drugs. Whereas novelist Aldous Huxley's famous 1954 treatise "The Doors of Perception" recounted his remarkable experiences with mescaline, Huxley was hardly mainstream – a darling of intellectual circles to be sure, but a far cry from a matinee idol. Grant was one of the biggest stars Hollywood had to offer when he jumped headlong into Huxley's "Heaven and Hell." His endorsement of subconscious exploration arguably created more interest in LSD than Dr.Timothy Leary, who was largely preaching to the converted.
Grant on the other hand was the fantasy of countless Midwestern women. He convinced wholesome movie starlets like Esther Williams and Dyan Cannon to blow their minds. When Ladies Home Journal and Good Housekeeping interviewed him, the topic of conversation wasn't Cary's favorite recipe or "the problem with youth today." Instead Cary Grant was telling happy homemakers that LSD was the greatest thing in the world.
Peter Gauger, Cologne 2013
Flight engineer for D.L.R. and N.A.S.A. - the German and United States aerospace administrations.
Oil on linen
30 x 45 cm
Regulus Guided Missile (Associated Press Photo, circa 1957)
Silkscreen on newsprint
101 x 76 cm
Two Lasers: One Pointing at Polaris (Pole Star). The Other Delineating the Traversal of the Star Regulus as It Comes Over the Horizon
Pedestal, table, tools, acrylic, lasers, smoke machine, mirrors Dimentions Variable
Who Are The Brain Police?
Police Vehicle Strobes, wood, electrical components
60 x 60 x 60 cm
Installation view, Glasgow Print Studio